Just a heads up to those back up north.
UPDATE 329PM EDT: Tornado Watch Issued.
URGENT - IMMEDIATE BROADCAST REQUESTED
TORNADO WATCH NUMBER 143
NWS STORM PREDICTION CENTER NORMAN OK
230 PM CDT FRI MAY 7 2010

THE NWS STORM PREDICTION CENTER HAS ISSUED A
TORNADO WATCH FOR PORTIONS OF

EAST CENTRAL ILLINOIS
CENTRAL AND NORTHERN INDIANA
SOUTHERN LOWER MICHIGAN
WESTERN AND CENTRAL OHIO
LAKE ERIE

EFFECTIVE THIS FRIDAY AFTERNOON AND EVENING FROM 230 PM UNTIL
1000 PM CDT.

SEVERAL TORNADOES
ISOLATED INTENSE TORNADOES POSSIBLE
WIDESPREAD DAMAGING WINDS
ISOLATED WIND GUSTS TO 70 MPH POSSIBLE
WIDESPREAD LARGE HAIL
ISOLATED HAIL TO 2.0 INCHES IN DIAMETER POSSIBLE
UPDATE! New Mesoscale Discussion issued for area by SPC.
CONCERNING...SEVERE POTENTIAL...WATCH LIKELY
THE RISK FOR SEVERE STORMS APPEARS LIKELY TO INCREASE WITHIN THE NEXT FEW HOURS. A TORNADO WATCH MAY BE NEEDED WITHIN THE NEXT HOUR OR SO.

http://www.spc.noaa.gov/products/outlook/day1otlk.html
Live Video Feed from: ChaserTV.com and SevereStudios.com
NWS North Webster, IN (N Indiana/NW Ohio/S Michigan): http://www.crh.noaa.gov/iwx/
NWS Cleveland (NC/NE Ohio) : http://www.erh.noaa.gov/cle/
NWS Detroit/Pontiac (SE Mich): http://www.crh.noaa.gov/dtx/
DAY 1 CONVECTIVE OUTLOOK
NWS STORM PREDICTION CENTER NORMAN OK
1119 AM CDT FRI MAY 07 2010

VALID 071630Z - 081200Z

...THERE IS A MDT RISK OF SVR TSTMS OVER PORTIONS OF INDIANA AND
OHIO...

...THERE IS A SLGT RISK OF SVR TSTMS FROM THE ARKLATEX INTO THE
UPPER OH VALLEY...

...OH VALLEY...
A STRONG PROGRESSIVE SHORTWAVE TROUGH OVER SD/NEB WILL TRACK EASTWARD TODAY...WITH ITS ASSOCIATED 100+ KNOT MID LEVEL JET NOSING ACROSS THE UPPER MIDWEST AND INTO THE GREAT LAKES REGION. A LARGE FETCH OF SOUTHERLY LOW LEVEL WINDS WILL RAPIDLY TRANSPORT GULF MOISTURE NORTHWARD AND HELP TO DESTABILIZE A LARGE PORTION OF THE MID/LOWER MS...OH...AND TN VALLEYS.

SCATTERED THUNDERSTORMS ARE ONGOING THIS MORNING ACROSS LOWER MI TO THE NORTH OF THE SURFACE WARM FRONT. THIS ACTIVITY IS EXPECTED TO LIFT AWAY FROM THE WARM SECTOR AND ALLOW STRONG HEATING MUCH OF THE DAY ACROSS IL/IND/OH. PRESENT INDICATIONS ARE THAT THUNDERSTORMS WILL INITIATE BY MID-LATE AFTERNOON NEAR SURFACE LOW OVER EASTERN IL/NORTHWEST IND. STORMS WILL LIKELY RACE EASTWARD ACROSS THE MODERATE RISK AREA THROUGH THE LATE AFTERNOON AND EVENING WITH THE RISK OF WIDESPREAD DAMAGING WINDS AND HAIL. LOW LEVEL VERTICAL SHEAR IN VICINITY OF THE WARM FRONT WILL ALSO BE CONDUCIVE FOR SUPERCELLS AND A FEW TORNADOES.
Tornado Threat:

Wind Damage Threat: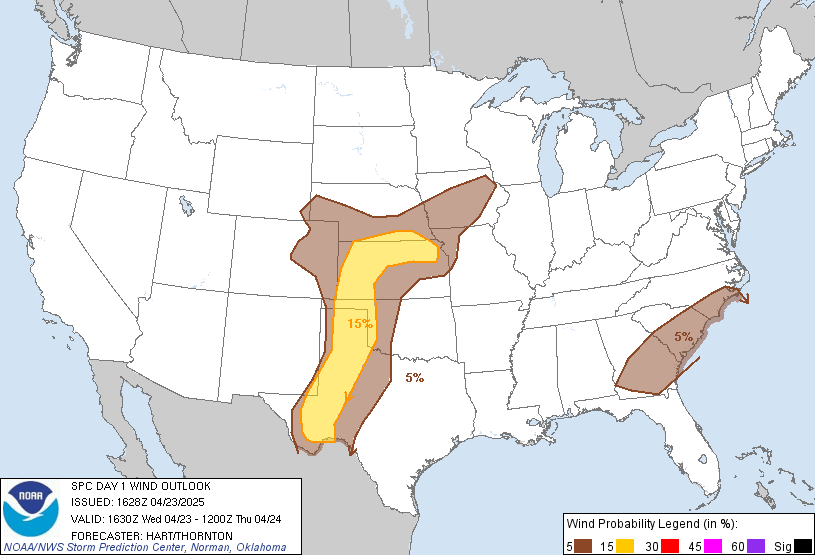 Current Satellite:

Current Radar: